Thermomix for chefs is a must. Using Thermomix, restaurants are raising the quality level of their food and saving time, money, and effort.  With accurate times, temperatures, and speeds, and by stirring constantly for you, Thermomix effectively gives you an extra pair of professional hands in the kitchen and delivers consistent results time after time.
Increase productivity
Improve colour, texture and flavour
Increase yield and reduce food waste
For professional kitchens, Thermomix has become the tool of choice for blending, purées, hot and cold sauces, ice-cream mixes, crème pât, and much more. Thermomix purées are so fine that you can reduce or eliminate passing/sieving. One Thermomix with one blade can do all this:
Outstanding blending, and silky smooth purées • Pesto and perfectly emulsified dressings

Pâtés and mousses

Perfect crème for crème brulée
Fruit sorbets in 2 to 5 minutes
Ganaches for hand-made chocolates
Fresh pasta and bread doughs mixed and kneaded
Zabaglione in 8 minutes, whisked and heated
Herbs and vegetables chopped in seconds
Spices ground to powder with no heating of the spice • Soft fresh bread crumbs in 2 seconds
Parmesan grated in seconds
30 cloves of garlic peeled in 10 seconds
Hot and cold soups and sauces, with any texture
Chefs Package only £1,098.33 plus VAT includes a second bowl Basic Package with one bowl £957.50 plus VAT
N.B. If ordering this in June 2022, you can buy the Chefs Package for the Basic Package, as we have an offer on a free second bowl for all payments in full till July 3rd.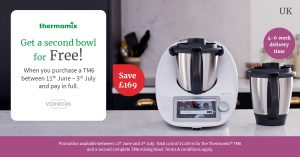 Message me now to place your order before the price increase.
Ankita Stopa
Diamond Team Leader & Advisor 800 000 0068
Ankita@onegirlandherthermie.co.uk
07977 563537