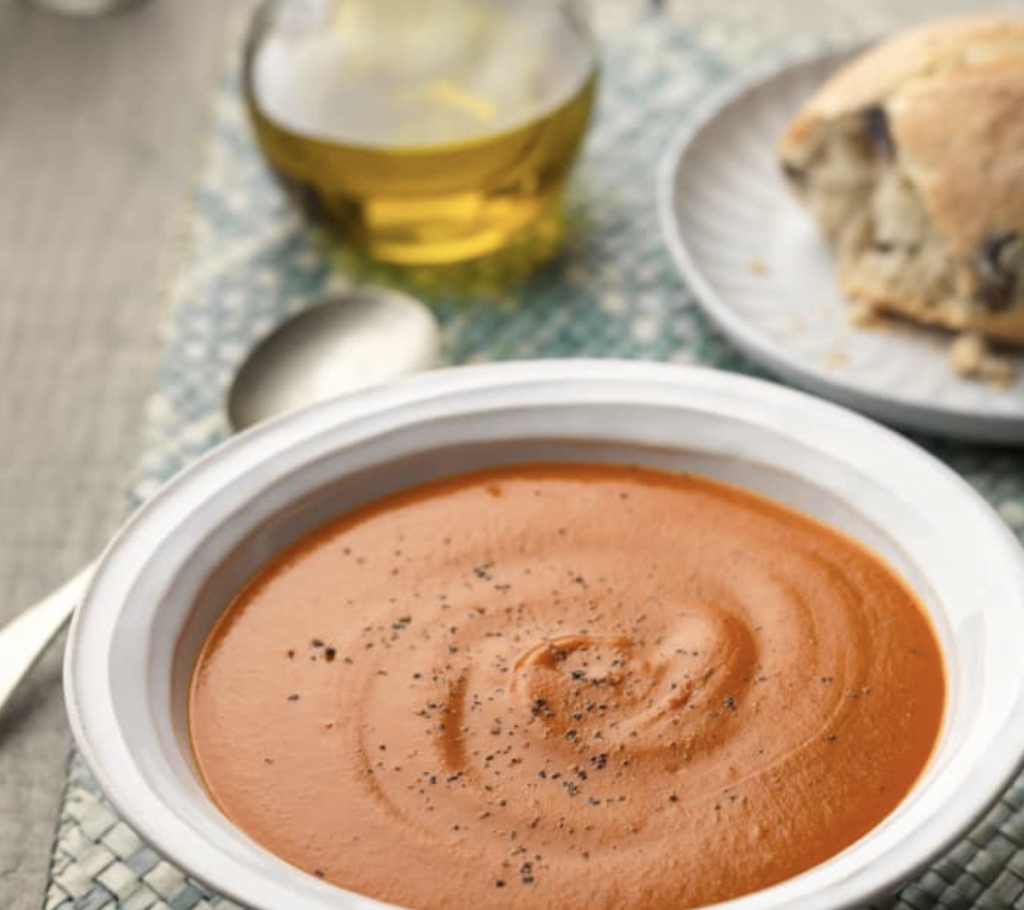 Save money with Thermomix. It's what we as owners and users say all the time. But finally, I'm able to share some of the cost savings with specific recipes like this Red Pepper and Tomato Soup which is one of our household staples but also one that is a wow, demonstration recipe.
Why is it a wow recipe? Well, this recipe is so easy to make but showcases some of the greatest Thermomix functions – the milling and grinding of the lentils to a powder which means when they are added back into the soup to thicken and add protein, they could faster, the blending ability to not need to peel the red pepper skins which are usually so hard to do and speed which keeps this soup red and vibrant in colour, means we haven't lost the vitamins and minerals by overcooking and boiling. I challenge many of my demonstration guests to re-do this recipe manually or using their own kitchen equipment and the Thermomix version comes out on top in texture and flavour, every, single, time.
But we're here to talk about cost savings, so I've done a quick search for some tomato soups in an online supermarket. I've chosen Waitrose today, but I will be comparing all of them in this series of articles to be fair.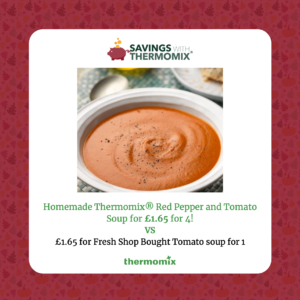 Ingredients
40 g lentils
or rice
2 garlic cloves
50 g onions, quartered
200 g red peppers, quartered (approx. 2 peppers)
50 g olive oil
400 g ripe tomatoes, cut in pieces (2 cm)
or tinned chopped tomatoes
400 g water
1 heaped tsp vegetable stock paste, homemade
or 1 vegetable stock cube (for 0.5 l), crumbled
1 tsp fine sea salt, or to taste
½ tsp ground black pepper, plus extra for sprinkling
¼ tsp ground cayenne pepper (optional)
Preparation
Place lentils in mixing bowl and grind 20 sec/speed 10. Transfer to a bowl and set aside.
Place garlic, onions, red peppers and oil in mixing bowl then chop 2 sec/speed 5. Scrape down sides of mixing bowl with spatula then, with simmering basket in place of measuring cup, sauté 5 min/100°C/speed 1.
Add tomatoes, water, vegetable stock paste, reserved ground lentils, salt, pepper and cayenne pepper (if using) then, with simmering basket in place of measuring cup, cook 14 min/100°C/speed 2.5. Insert measuring cup then start Blend /1 min.
Divide between serving bowls and serve sprinkled with pepper.
Hints & Tips
Serves 4 for lunch with crusty bread, 6 as a dinner party starter or 12-15 as a lovely amuse-bouche served in shot glasses.
For a milder flavour, omit cayenne pepper in step 3.
For a Carrot and Lentil Soup, substitute red peppers with 350 g carrots, cut in pieces (3 cm), in step 2 then chop 6 sec/speed 5. Omit tomatoes in step 3 and, after blending, thin to desired consistency with 50-100 g extra stock before blending again 30 sec/speed 10.
Steam vegetables in the Varoma while the soup is cooking. Before cooking in step 3, place covered Varoma with vegetables into position and steam using Varoma temperature instead of 100°C.
Get this recipe on Cookidoo https://cookidoo.co.uk/recipes/recipe/en-GB/r448440