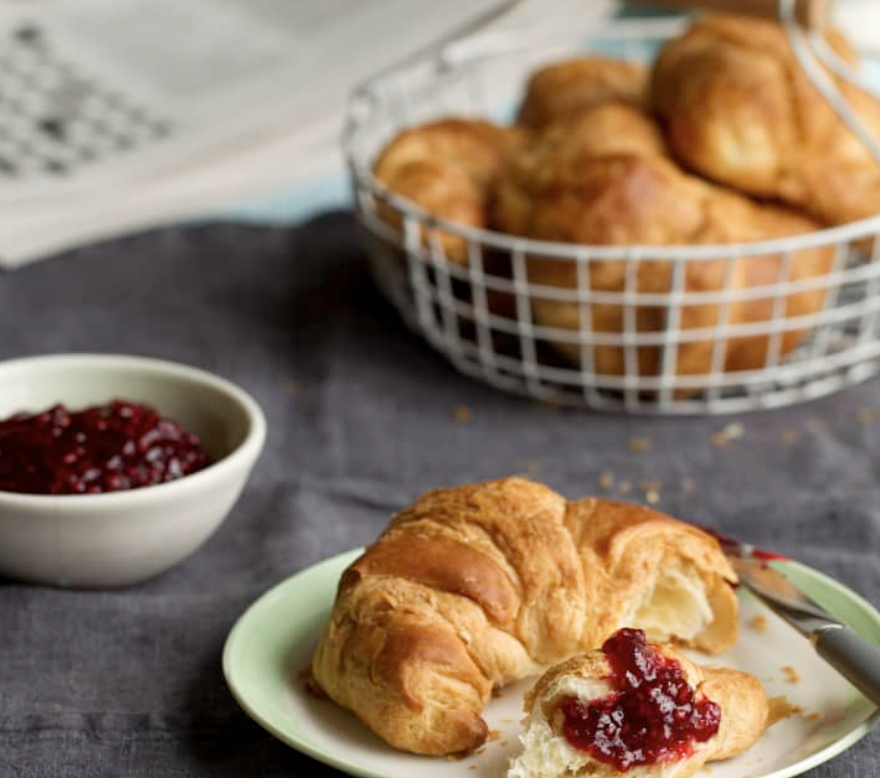 Save money with Thermomix. It's what we as owners and users say all the time. But finally, I'm able to share some of the cost savings with specific recipes like this raspberry jam recipe which is one of our household staples but also one that is a wow, demonstration recipe.
Why is it a wow recipe? Raspberry jam is so quick and delicious! I prefer to reduce the sugar: 350 g frozen raspberries + 250 g jam sugar. If you want it less set, only cook for 20 minutes. Great topping for your plain yogurt.
But we're here to talk about cost savings, so I've done a quick search for some tomato soups in an online supermarket. I've chosen Ocado today, but I will be comparing all of them in this series of articles to be fair.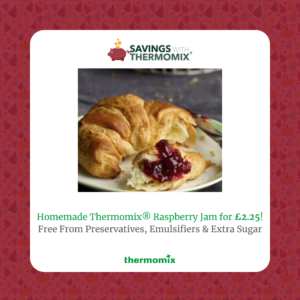 Ingredients
250 g frozen raspberries
250 g jam sugar, £2.35
20 g lemon juice
Preparation
Place raspberries, jam sugar, and lemon juice in mixing bowl then, with the simmering basket in place of measuring cup, cook 25 min/105°C/speed 1. Meanwhile, prepare jam jars (see tip).
Test setting point of jam (see tip). Transfer to warm glass jars with screw-top lids (see tip), leaving approx. 5 mm gap at the top. Make sure that rims of jars are clean and close immediately. Label before storing in a cool, dry place. Once opened, store in fridge.
Hints & Tips
Preserves are really easy to make in the Thermomix®, and save you standing over a stove stirring for hours. Use this recipe in the butterfly cakes recipe. Also delicious served with croissants.
To prepare jars, place 500 g water in mixing bowl. Place jars and lids upside down in the centre of the Varoma and steam 20 min/Varoma/speed 1. Leave to drain – do not dry or touch the inside surfaces. Alternatively, thoroughly wash jars and lids in hot, soapy water. Rinse by pouring over boiling water. Prepare for filling, if needed, by placing on a clean tea towel in a roasting tin and heating in the oven at 100˚C until required. Always pour hot jam into still warm jars.
Setting point test: place a saucer in the freezer for 5-10 minutes. Place 1 tsp jam onto cold saucer. When cool, push jam with your finger. If it wrinkles, it is ready. If not, boil jam for a further 2 min/105°C/speed 3, then test again.
To make twice as much jam, double the ingredients and cook for the same time, 25 min/105°C/speed 1.
Nutrition per 1 total recipe
Calories 4443 kJ / 1062 kcal
Protein 3.1 g
Carbohydrates 260.8 g
Fat 0.8 g
Get this recipe on Cookidoo https://cookidoo.co.uk/recipes/recipe/en-GB/r68363