There are two ways to become a Thermomix Advisor:
A) Owners Programme (The training on Friday 15th November will be the last chance to participate in this option)
Sign up to the Owners Programme (you should own a Thermomix TM6 with a UK plug)
Book your newcomers demonstration with your Team Leader
Attend Module 1 training and start selling straight away. You must make your first sale within 30 days to qualify as an Advisor and earn full commissions and incentives from day 1.
B) Earning & Demonstrate Programme:
Sign up to Earn and Demonstrate Program and pay your deposit of £150 for the loan Thermomix.
Book your newcomers demonstration with your Team Leader
Receive a loan Thermomix TM6 at Module 1 for demonstrating purposes.
Earn a Thermomix TM6 and swap your loan for a new one, once qualified. Once qualified, earn full commissions and incentives as above.
November 2019 Note:
Do you want to have a Thermomix in your kitchen over the busy Christmas period? Then why don't you join our pilot program starting on Wednesday 18th November…read on for more information.
The Thermomix TM6 only launched in June this year and whilst the early adopters are enjoying their machines and new functions, there's so much buzz on social media. I've received so much positive feedback on the TM6.
Those who have had a TM5 love the subtle improvements such as bigger screen, higher temperatures and in-built Cookidoo.
Those with TM31 are blown away with the upgrade.
And for those who have yet to have a Thermomix, well, they are just simply missing out.
So now is great opportunity to bank on this.
The greatest secret though is yet to be discussed. We have only penetrated 1% of the UK market. That means there's a golden window for you to start this business riding the tails of the launch of Thermomix's best model ever.
Our Earn and demonstrate program continues, with free training and support throughout your Thermomix Advisor journey, a loan of Thermomix for the duration of your 90-day training programme, team & branch meetings to help mentor and motivate.  
Potential training dates for 2019. That's right, there are only 6 more potential dates to train this year. Come onboard before it's too late and you miss the gravy train.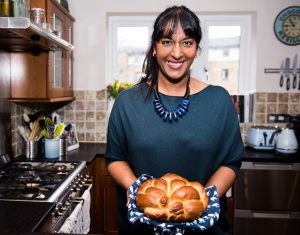 Wednesday 20th November
Wednesday 27th November
Wednesday 4th December
Wednesday 11th December
Wednesday 18th December
Wednesday 26th December
This quick-start pilot program to end the year with a bash, we've made things easier to join. You sign up on Monday, train & pick up your Thermomix on a Wednesday and then do some e-learning training before you can start selling. 
I'd be happy to meet up for an informal coffee and a chat, to discuss the role in more detail. Please do give me a call on 07977 563537 or email on Ankita@onegirlandherThermie.co.uk