Our Double Bowl Offer is back due to the Thermomix being out of stock with pre-order wait times of 4-6 weeks.  But this time, it's even more exciting as depending on when and how you buy, you can receive a second bowl, worth £169 absolutely free. 
It's a Double bowl, double joy!
2 Bowls are better than 1
An extra Thermomix TM6 bowl helps you save even more time as there's no need to wash up in between steps or recipes. It's also perfect for making ingredients from scratch, without stopping the flow of your recipe! With the kids going back to school, there is no better time to get an additional set of bowl, blade & lid!
You can separate savoury from sweet food; reserve one bowl for baking; keep a bowl free of allergens, and keep it aside only for your baby (or fur-baby)!
Think of what you can create with an extra mixing bowl!
TOP 5 REASONS FOR HAVING A SECOND BOWL, BLADE, AND LID SET.
Make ingredients from scratch – mill almond meal, icing sugar, or grated Parmesan cheese without stopping the flow of your recipe. Save time when you need to mill sugar, spices, or grains or grate cheese mid-recipe.
 A sparkling clean bowl is a secret to fluffy whipped egg whites and meringue. Use your second bowl to whip your egg whites, and keep your first to continue on with the rest of the recipe. Two of our favourites are the Chiffon Cake and Chocolate Mousse.
Simply being able to swap bowls to reduce cleaning or save time when waiting for ingredients to cool or rest
If you're catering to special dietary requirements from gluten-free, dairy-free, Kosher, you name it; you may like to allocate one bowl for those recipes to avoid cross-contamination.
Keep one bowl for sweet dishes and one for savoury meals like curries, especially handy if you don't want your lid stained with turmeric for those who use it.
WHAT'S IN THE SECOND BOWL, BLADE, AND LID SET BOX? 
Stainless steel bowl with handle
Bowl base
Mixing knife
Lid with a seal
Newly improved measuring cup
Simmering basket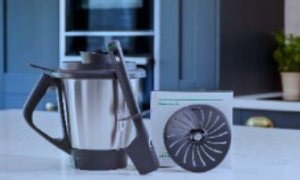 For anyone reading this in June 2022, there is discounted price when you purchase it as part of Vorwerk's June offer.
📣 FREE Second bowl (worth £169) for customers purchasing a Thermomix TM6 from Monday 30th May – Friday 10th June, plus 0% for all purchases on 12, 24, or 36 months.
📣 HALF PRICE second bowl from 11th June – Sunday 3rd July plus 0% for all purchases on 12, 24, or 36 months Or FREE Second bowl, if one payment.
Contact me by email:  Ankita@onegirlandherthermie.co.uk, or text or WhatsApp me on 07977 563537 if you would like more information or place your order.