I always believe that the Thermomix is the real deal, and anything else is just extra, but for completeness and transparency, here are the Thermomix offers for 2021 Q1 from January to March.
March 2021:
Available from Tuesday 2nd March to Monday 15th March, we launched the 'Love at First Bite Weaning' bundle for £1082.
The bundle contained:
An amazing
 new cookbook, 
Love at First Bite: My Weaning Journey
 cookbook launched this month. Starting your weaning journey with your baby is an exciting time and with the help of your Thermomix®, it can be a truly fuss-free adventure filled with delicious food for both you and your little one. These recipes will take you through all three stages of weaning and give your baby the opportunity to explore many different flavours and textures. We want to foster a love of food in your baby from day one, and your Thermomix® is here to help you achieve that.
Elephant bamboo plate
 2 sets x weaning spoons
 4 x w
eaning pots
 Weaning
 bib
The cost-saving here was the price of the new Cookbook, £25 and the entire bundle is worth £58.
The Thermomix TM6 remained at £1149, but you were paying an extra £33 for the bundle.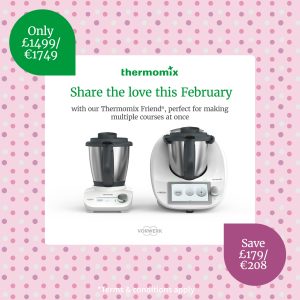 February 2021: 
For purchases in February 2021, the offer was a Thermomix TM6 and a Thermomix Friend for £1499.
The cost of the Thermomix remained at £1149, but the additional £350 meant you got the Thermomix Friend and second bowl at a massive discount which is where the £179 saving can be seen.
When the Thermomix Friend is launched to existing customers, it will be priced at £369 for the Thermomix Friend AND £529 for the Thermomix Friend plus second bowl.
Once again Thermomix TM6 remained at £1149, but you were paying an extra £350 for the bundle.
January 2021:
For any purchases of Thermomix this month, customers had the opportunity to purchase an additional 3-years manufacturer's warranty for £49 giving you a 5-year peace of mind. The Thermomix TM6 usually comes with a two-year warranty, so this add on (usually priced at £149) was a £100 saving for the bundle.
So our Thermomix TM6 remained at £1149, but you were paying an extra £49 for the bundle.