You've already experienced the time and money-saving benefits of cooking with Thermomix – now imagine what you can do with a second bowl, blade, and lid set!
It was my daughter's birthday last month and of course, I had to bake her a cake. Her favourite is my vanilla cake with buttercream icing. Whilst I have a well-stocked larder, it's not that well stocked when she says she wants to take a second cake back to school. I needed more icing sugar and having a second bowl handy to make a new batch of icing sugar from granulated is always helpful.
Since I do a lot of baking, I love having two bowls for suddenly having to mill that sugar or almonds, or even when I suddenly need ground cinnamon and only have cinnamon sticks. Two bowls are ever so handy and probably, in my opinion, the best accessory to have with a Thermomix.
Top 5 reasons for having a second bowl, blade, and lid set.
Make ingredients from scratch – mill almond meal, icing sugar, or grated Parmesan cheese without stopping the flow of your recipe. Save time when you need to mill sugar, spices, or grains or grate cheese mid recipe.
 A sparkling clean bowl is a secret to fluffy whipped egg whites and meringue. Use your second bowl to whip your egg whites, and keep your first to continue on with the rest of the recipe. Two of our favourites are the Chiffon Cake and Chocolate Mousse.
Simply being able to swap bowls to reduce cleaning or save time when waiting for ingredients to cool or rest
If you're catering for special dietary requirements, you may like to allocate one bowl for those recipes to avoid cross-contamination.
Keep one bowl for sweet dishes and one for savoury meals like curries, especially handy if you don't want your lid stained with turmeric for those who use it.
You can purchase your second through me as an Advisor, at any point. They are priced at £169 and it's money spent well. It is delivered by DPD courier, which is fully tracked and traced and with free shipping.
What's in the second bowl, blade, and lid set box? 
Stainless steel bowl with handle
Bowl base
Mixing knife
Lid with a seal
Newly improved measuring cup
Simmering basket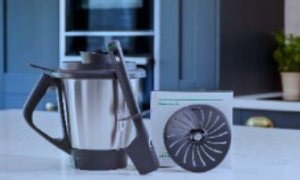 For anyone reading this in November 2021, there is discounted price when you purchase it as part of Vorwerk's Black Friday sale.  You can purchase a TM6 Accessory set which includes. second bowl, blade, and lid set (mixing bowl complete) PLUS a Thermomix Spatula and a Blade Cover for £140. This would normally be priced at £200, so you are receiving a 30% discount and saving £60.
For those with a TM5, you can also purchase a TM5 Accessory set which is the same except with a TM5 bowl.
Contact me on email:  Ankita@onegirlandherthermie.co.uk, or text or WhatsApp me on 07977 563537 if you would like more information or place your order.