With our 0% finance extended to 19th April 2021, available for all purchases for Thermomix TM6, I thought I'd give you 12-reasons to invest in a Thermomix this month.
1. To simplify your life (in and out of the kitchen)
Doesn't it feel good to declutter?!
The Thermomix replaces over 20 of your household appliances. Imagine the space you'll create in your kitchen cupboards. Have a garage sale or eBay those big items (like the bread maker) that take up a lot of room for the limited time they're in use! No need for measuring cups with the built-in scales in the Thermomix, or for smaller chopping gadgets that take time to pull apart and clean.
This is actually a picture of my friend and TM customer's kitchen redesign by Omni Home Designs in Hertfordshire. Isn't it just beautiful?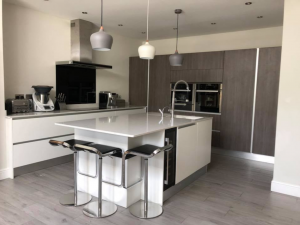 2. To save you valuable time in the kitchen.
Chopping, mincing, milling, grinding, stirring, and kneading all done for you!
We all see how life throws certain demands at us and it's easy to take shortcuts in the things that matter most. Food preparation is one of those things! We choose quick frozen, or takeaway meals because we haven't got the time to prepare more nutritious food…and quite frankly, convenience is killing us. Then, there's the time you save cleaning up one seamless, non-porous bowl that helps clean itself! This is the ultimate fast food machine!
3. To eliminate those packaged foods with harmful additives and preservatives.
It allows you to avoid the chemicals in modern processed foods and returns you to the tradition of wholesome home-style cooking using the technology of the future. Make your own delicious nutritious marinades, sauces, butter, condiments like mayonnaise & custard.
This is the ultimate health machine.
4. To save you money in your trolley on many general items. (And on takeaway)
Did you know you could make 1 litre of fresh fruit sorbet for just £2.00? 500ml of Tesco's Raspberry sorbet costs £2.20, so for the same cost, you can make double.
A good quality bread in the Thermomix will cost you around 50p as to £2-4 in the supermarket
Risotto in the TM is around £5 to make and it serves 5, I have paid up to £18 in a restaurant for a serving for one! These are just a few ways Thermomix saves you money.
5. To save on your energy bill
The Thermomix costs around 15p an hour to run. When I got my Thermomix I reduced the amount of gas I was using with my cooker and my energy bill went down 20%;  now that's impressive especially since I was suddenly using the oven a whole lot more. We've done analysis that cooking a soup is 40% more energy-efficient than doing on the stove-top.
Faster and more efficient, and has no rival on the market. Featuring a gearless motor, Solingen steel blades, and a stainless steel bowl, Thermomix brings a new dimension to food preparation and cooking. The Thermomix is great for families on a budget!
6. Creativity made easy
Beautiful, infinite recipe possibilities with a line up of many books, websites and our very own recipe platform, called Cookidoo. With over 50,000 recipes available at your fingertips and new recipe collections every single week, in every single country, there's always something new to create.
Cook like a pro with gourmet recipes all made by your Thermomix. The Thermomix gives you the edge!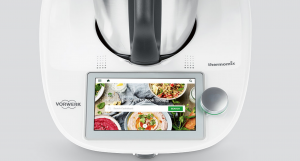 7. It will reduce your carbon footprint (and your household rubbish)
It's dreadful the amount of waste the average home creates on a weekly basis. Seeing that many of your meals can be made from basic ingredients such as vegetables, grains, legumes nuts, and seeds, you'll see a dramatic impact on your household waste. No more juice containers, no more cardboard boxes, less tin cans, and a reduction in plastics; the earth will have you to thank.
The environment is grateful for the Thermomix!
8. It will get the whole family to prepare nutritious meals.
The delight to many of my customers has been, that their family has taken on more meal preparation! Previously, meals in my home were primarily made by me but now with the Thermomix having gone digital and easier to use,  even hubby's that don't cook enjoy and appreciate the gadget that ends all gadgets! My kids as young as 8 and 11-years now use the Thermomix guided cooking functions unaided.  The Thermomix brings families together in food preparation.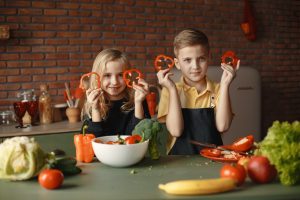 9. It's compact and portable, making it the perfect travel companion. 
Who wants to be spending time cooking while on holidays?
Many of my customers have taken their Thermomix in their campers and away to their holiday homes as an all-in-one appliance that does the lot. You don't even need saucepans and a kettle. This is the ultimate super kitchen appliance. I regularly take mine on holiday with me and last year, when we went to France, my Thermomix was slipped in the back of the car for our self-catering holiday. Yes, I know a holiday is a time to go out and eat, indulge in local cuisines and I'm all for that. But eating 21-meals in a week's holiday out can be expensive and sometimes, that quick breakfast of perfectly boiled eggs or no-lump porridge for breakfast, or quick tomato sauce and pasta for little ones who need to eat early is a lifesaver.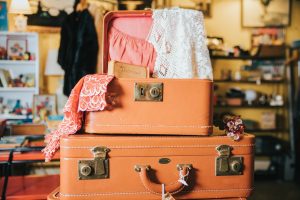 10. It puts the enjoyment back into cooking.
The Thermomix does the hard jobs for you like stirring the risotto for 17 minutes while freeing you up to go have a shower, check your emails or just go put your legs up! What about the lump-free bechamel or custard without burning the bottom of the pan…gotta love that! The Thermomix will give you a love for cooking again.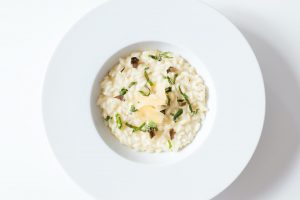 11. To make beautiful homemade inexpensive gifts is just another way to save with the Thermomix. 
Give a gift that you've lovingly prepared and everyone will enjoy.
Make your own Christmas pressies such as Dukka, Lemon butter, Jam, and homemade chocolates!
Thermomix makes gift-giving affordable and gift ideas easy. It's also much cheaper than buying a hamper.
12. Makes entertaining a breeze!
Whip up dips and salads in just seconds. I use to spend the day in the kitchen preparing a dinner party- not anymore. I can whip up all sorts of delicious recipes in no time from starter to dessert.
Then there are the superb cocktails, and after dinner coffee…oh yes it makes Cappuccinos & Lattes too! Thermomix is being bought by cafes and restaurants all over the world!
*As you can see the investment in initial outlay, is nothing compared to all the things you get back with Thermomix. This is why Thermomix is sold every 2 minutes around the world. In China, during the Covid_19 lockdown, sales of Thermomix went up 80% as people were home.
Why wait when you can buy now, pay later?
You may like to take the opportunity to with our Ikano finance options to purchase a Thermomix.
If you would like a chance to see the Thermomix in action, why not join me on one of my Virtual Cooking demonstrations. I'm hosting them every couple of days. Why not? We're all home.
To book call me today on 07977 563537 or see one of my socials for more recipe inspiration in terms of photos and videos.