Anna – This casserole dish is ideal for making sweet or savoury dishes and if you're looking for the perfect pie crust or wanting to 'wow' your family with deliciously home-baked self-saucing puddings, Anna is the one for you! Retails for £40/€45. 
Paul – One of our favorites, Paul is the ideal accessory for creating super crispy pizza bases and tarts, bringing restaurant-quality dishes to your home. Retails for £40/€45.
Ben – Ben is an all-rounder who will never let you down! Whether sweet or savoury – perfect results are guaranteed! Delicious sheet cakes, crispy focaccia, juicy meatballs, homemade chicken nuggets, and traybakes galore are a breeze with Ben! Retails for £55/€60. 
Betty – With a 4-litre capacity this deep covered baker makes creating deliciously crusty, bakery-worthy bread an absolute breeze. Or choose one of our excellent winter warmers like slow-cooked lamb shanks to get you through the cold autumn and winter days, ideal for midweek family meals. Retails for £85/€95.
This month, we are selling these Rockstars Stoneware accessories to accompany your Thermomix purchase.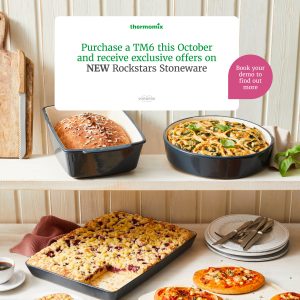 Rockstars Ultimate Set – £1284/€1509 (savings of £85/€95) When you buy a Thermomix® and all 4 stoneware products; you get Betty deep-covered baker for FREE. 
Rockstars Starter Set – £1209/€1425 When you buy a Thermomix® and the starter set; get 25% off Anna and Paul. 
Rockstars Bundle  When you buy a Thermomix® and one of the Rockstars; then you get 10% off on stoneware. 
Thermomix TM6 Only 

– £1149 The Thermomix TM6 being the star
Options 1-3 need to be placed via the Advisor Shop, so if these are of interest I can process your order. Option 4, can be done via me but also via the Online shop using my Advisor ID number.
As we're on COVID working practices, the head office has temporarily offered online ordering to make it easier for customers.
Thermomix TM6 at £1149 https://www.vorwerk.co.uk/shop/thermomix/thermomix-tm6/p/62149
I also recommend the blade cover to do slow cooking and sous vide. It's £19 and when ordered with your Thermomix, included in the free postage. If you order it later, you'll be hit with a £4.95 postage charge. https://www.vorwerk.co.uk/shop/thermomix/accessories/blade-cover/p/71266
You will need to add my Advisor number for your sale and TM6 account to be linked to me: 210220044
Please contact me on Ankita@onegirlandherthermie.co.uk or call/ text/ Whatsapp me on 07977 563537 and I'll be happy to process your Ikano finance application. I also have a monthly breakdown of each package for you, ranging from £35-41 per month.