We have two offers this month, yes, you read that correctly. The first is 0% for all Thermomix purchases this month, and the second is this month's customer promotion the 50% of the Sous Vide Bundle.
Thermomix TM6, £1149, is our standard offering. Simplicity at its best.
Thermomix TM6 plus Sous Vide Bundle, £1228 (Sous Vide Bundle, £158, saving, £79)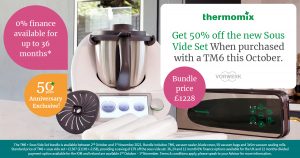 Unlock your inner chef with Sous Vide Cooking
With the Thermomix Sous-vide mode, you can prepare culinary masterpieces in the comfort of your own home! Wow, your friends and family with meat, fish, seafood, vegetables, and fruit cooked according to your preferences, and feel confident that you'll enjoy perfect results every time.
Sous-vide is a precise, gentle method of cooking: food is placed in a water bath, protected by a food-safe, air-tight bag, and cooked at a controlled temperature. Cooking the food in a sealed bag locks in all of the ingredients' flavour and nutritional benefits, while Thermomix can control the temperature in 1°C increments, allowing for better accuracy in your cooking.
Read more on the Thermomix Website here.
Both options can be bought on 0% finance for 12, 24, and for the first time ever, 36-months. For just £1 a day, you can have a Thermomix in your kitchen.
Option 1: Thermomix TM6 £1149
12-months @ £95.75 a month
24-months @ £47.88 a month
36-months @ £31.22 a month
Option 2: Thermomix TM6 Sous Vide Bundle £1228 (saving £79)
12-months @ £102.33 a month
24-months @ £51.17 a month
36-months @ £34.11 a month
Option 3 Thermomix TM6 Sous Vide Bundle £1228 (saving £79) plus extended warranty at £149, 
12-months @ £114.75 a month
24-months @ £57.38 a month
36-months @ £38.25 a month
Note: All Thermomix comes with a 6-months Cookidoo subscription, 2-year warranty, and lifetime support with me as your dedicated Advisor. All purchases come with an offer of a virtual demonstration and welcome visit.
This October finance offer and/ or Sous Vide bundle is an Advisor exclusive and can only be purchased via our Advisor portal. I will do this over the phone with you so we can go through the order and security protocol. So please, come back to me with any questions or if you'd like to proceed with a purchase, while stocks last.
Contact me on email:  Ankita@onegirlandherthermie.co.uk, or text or WhatsApp me on 07977 563537