Whether you are a home cook or an experienced chef in the kitchen, we are all cooking far more than at home. We know meal times bring people together (especially in lockdown) but the act of feeding may have become an inconvenience rather than a way to relax and unwind. So why make life harder for yourself, Thermomix to the rescue.
I love to cook, it's how I initially bought a Thermomix and why I became an Advisor. To share my love of food and cooking and how easy it can be with this kitchen robot. But my last 12-years in this business has shown me how different people have different reasons for purchasing a Thermomix.
Some love cooking, like me. Some hate it. Some want to be more creative in the kitchen. Some want time savings or cost savings. Others simply want to increase their knowledge in the kitchen. Most bought for a reason that was more emotive than practical.
But wow how things have changed. COVID 19 and the first lockdown was hard enough. Having to cook three meals a day, every day while keeping the menu exciting, nutritious, and delicious – who would have thought that would even be a thing?! and yet it is so important to support our own, and our families, physical and mental wellbeing. Which is a thing, a big thing in today's world.
The beauty of a Thermomix is that it is a smarter way, to cook and meal plan. People are just realising this but some of us have known this secret for a while.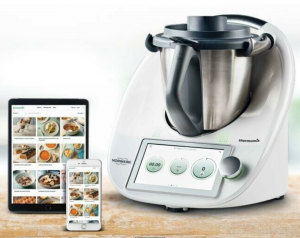 Thermomix changes you. A Thermomix changes the way one cooks and plans. I always thought we had a balanced diet (I'm a slight control freak with nutrition) until I realised we were heavy on chicken, minced beef, and salmon (I'm a mother to young kids, remember). But with Cookidoo, I was suddenly able to plan white fish, lamb, and pork dishes into our fortnightly meal plans, hide oily fish in pates and spreads, sneak tofu into smoothies and avocado in my frozen fruit.
Also,  more surprisingly, has injected the joy back into my kitchen.
Of course, everyone is skeptical at first, I definitely was. I denied myself seeing a demonstration for over 3-years as I didn't believe my sister-in-law that one kitchen appliance could really do all she claimed it could. For those of you, like me, who had never heard of the Thermomix….it's basically the Ferrari of kitchen gadgets. This can make light work of everything. Stir, mix, emulsify, chop, blend, grind, cook, heat, steam, weigh, whip, and knead. And I bought my first TM before the digital era came along.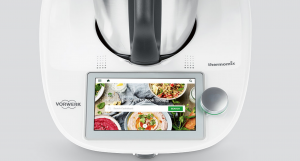 Guided cooking. Thousands of recipes are available via the Cookidoo platform providing endless culinary inspiration. Think of guided cooking as your personal commis chef prompting you with the ingredients to add, how much to add, when to add it, and then doing all the chopping and cooking for you with successful results guaranteed. I mean, yes, please! There are over 60,000 recipes available at your fingertips and every week, in every country this number increases as new collections are added.
It's a running family joke that when I finally did see a demonstration, I bought on the spot and realised what I had been missing all those years. Within months, I was demonstrating purely because I needed to share this revelation with everyone. This kitchen robot really did transform how I cook, save me time, restore kitchen creativity, and see me turning out nutritious, healthy, no added nasties, tasty new dishes every day.
So 2 weeks into the second lockdown, it is saving me again and I believe there's no need to struggle when Thermomix is there to rescue us. Coronavirus and lockdown have impacted our daily lives. As we get to the end of the year, there is general fatigue amongst my friends. Most of my friends are already owners but it was funny when the other day when speaking to a friend about her trials and tribulations, the conversation steered towards how much joy her Thermomix gave her. The fact that food gives us the nourishment we need to go on, but can also create lasting memories when we want to entertain or celebrate can be a beautiful thing. The Thermomix is not just for lockdown but for the long-term.
If you would like to find out more, I would love to share my passion with you. Contact me to join in one of my many virtual demonstration and cooking experiences I am doing every week. It could help you, so please do get in touch.
And remember, keep safe, keep going, we will all get through this.