I've recently spent a week at FitFarms Derbyshire.
The company, FitFarms specialises in non Fitness and Weight Loss Boot Camp style programmes allowing people of different fitness levels, shapes, sizes, and medical conditions to join and feel comfortable in a retreat environment. Their tailored programmes provide a holistic approach without the fat camp or fitness boot camp regime guaranteeing you lose body fat, tone up, and kick start a healthy new lifestyle with the support of an aftercare programme. The FitFarms course is scientifically proven and has appeared on The BBC and Channel 4 helping the NHS with new fitness and lifestyle initiatives. The success of these courses is based on creating an educational lifestyle retreat as opposed to the traditional fat camp.
I originally booked this during lockdown when my sister and I were so frustrated with staying home that a reset and restart week away (read, away from the husbands and children) was exactly what we were looking for. Yes, I could lose a little weight but when I booked I was more looking forward to the retreat part of it. Yoga, meditation, talks etc.
Well, now that I'm back, how different things are. I did lose weight, 4lbs in 4 days after the relaxing and rigorous exercise, from gentle walking in the Dales to HIIT sessions, a plant-based meal planning, and intermittent fasting.
The plant-based menu was to die for and given that I am a Thermomix owner and Advisor, watch out for me converting Justin Lord's recipes into a Thermomix version. Every meal I ate during my time way could be re-engineered to a TM-way, so I'm excited and raring to go. Justin gave an amazing program of fitness classes but what I loved more than anything was the mindset classes and science behind it all. I'm a scientist, I like medical evidence. For example, having the science behind stuff and seeing the chart on how your blood sugar remains high throughout the day with snacking means that I'm now a no-snack girl.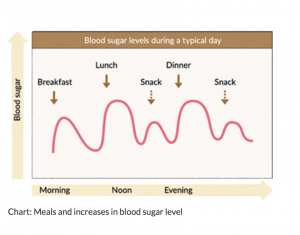 I won't lie though. For those who know me, I do like a sweet treat, so I'm going to follow the FitFarms philosophy and reward myself with a treat at the end of the meal. It means I still get that hit of sweet but I'm eating at the right time. So my current regime is IF for 16-18 hours, black coffee and a walk, following by breaking fast with a smoothie or breakfast bowl, light lunch and dinner before 7pm.
So, join me as I continue this fitness and weight loss journey and experimentation into plant-based nutrition. I'll be reblogging some of the FitFarms recipes which I know are easily converted to Thermomix.