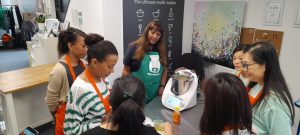 Welcome to May. I'm high in energy after our hands-on Asian class yesterday at our Greenwich Studio, where we welcomed guests and cooked together. I can't recall, having so much fun in a long time.
Our branch is open again for cooking classes and workshops. We're having a blast meeting up again and sharing the Thermomix passion we all have – saving time in the kitchen, and cooking things from scratch. I even learn new things from other Advisors, like yesterday I made Pan-fried Bao Buns. Why have I never made Bao Buns before?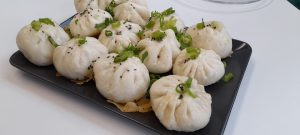 We have a 'First Class with Thermomix' on Friday 20th May and I'd love for you to join.
If anyone is curious about Thermomix, has seen a demonstration but hasn't made the purchase decision, or for many of you, owns a previous model, then why don't you come along? You don't need to have a Thermomix or the latest model to attend. No pressure, just an Advisor-led fun class full of easy recipes you will be invited to taste all the delicious food cooked.
And what's better for the month of May, it's free. From June, we will start charging…
'Go Green and Feel Good this May'
Feel good this month with this fantastic free bundle designed to help you eat well and keep healthy while reducing food waste and saving money on your weekly shopping. When you order a Thermomix TM6 you'll receive:
💚 Brand new, 'Go Green Feel Good Cookbook'
💚 Beeswax Wraps (perfect for wrapping leftovers)
💚 Infuser Flask (really handy to carry your favourite drink anywhere)
💚 Set of Mesh Bags (to help you reduce single-use plastic).
We're still on pre-order with delivery times, 4-6 weeks from placing your order, so please don't wait till the 29th May to make your purchase decision. Order early in the month, and then attend one of our many classes or workshops to keep you inspired, trained up, and ready to go once your receive delivery.
Remember: There are 3 ways to own a Thermomix, our team and earning one, one payment of £1149 or spread payments with Nuvona Finance.
New Referral Gifts
I'm proud to announce that the head office has launched a new referral gift for all customers or guests who refer clients.
If you refer a friend to me and they buy a Thermomix TM6 this month, you'll receive a FREE Thermomix Spice Jar Set, from Vorwerk, worth £22. I will be offering my individual referral gifts, as I've always done, so now it's double gift time just for sharing our mutual love for the Thermomix.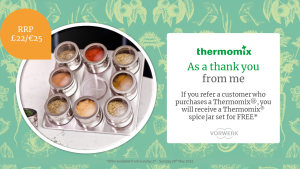 Please get in touch ASAP to take advantage of this a-may-zing offer. Contact me at Ankita@onegirlandherthermie.co.uk.
Also: Extended Warranty. I am pleased to say, that we continue to offer an extended 3-year warranty at the point of purchase an add-on for £149. The Thermomix TM6 comes with a 2-year warranty so with this 3-year extension, you have 5-years of peace of mind. If you would like to add this on at the time of purchase, do let me know.
Note: All Thermomix comes with a 6-month Cookidoo subscription, 2-year warranty, and lifetime support with me as your dedicated Advisor. All purchases come with an offer of a virtual demonstration and a welcome visit.